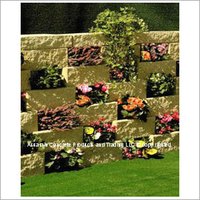 Split Block Flower Wall System
Product Description
Split Block Flower Wall System is another reason that ACP should be praised for introducing another processes of construction that adds to the infrastructural value. It includes the effective construction that has a blend of nature, greenery, and aesthetics. Whole structure of wall is made by joining two elements end to end and these walls can stand up to any height falling in between 2 m to 3 m with substituting element aligned back to back. The walls can go to any height by creating multi-level benches. Split Block Flower Wall System also has the ability to take turns and twist along the profile under the terrain.

Benefits
Very handy for hiding unsightly and unattractive landscapes.
Have wonderful natural exteriors – both inside and outside landscapes, luxury villas, etc.
Combines greenery and look, breaks monotony.
Available in enchanting and bright colors.
Significant savings on costs.
No requirement of plaster.
Low maintenance required such as occasional scrubbing.
Contact Us
C.P.O. Post Box No. 971, Postal Code 111, Sultanate Of Oman Muscat Muscat Oman